Posted on Tuesday, February 17th
[ad name="Adsense 468×15 text below title"]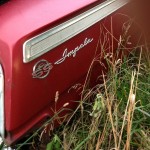 Chevy Impala "Field Find"
We've all heard of that great barn find muscle car that's been hiding in some out of the way location just waiting to be found and restored. This 62 Impala 2 door is more like a "field find". It actually was in a barn for many years, but then was dragged out into a field so it could rust away even faster!
It's a factory SS with the cowl tag to prove it. The original 283 cid engine and transmission are still in place, which is nice, but not nearly as valuable as the more coveted 409. The interior is almost totally stripped. Only the original back seat remains, which would obviously need a full recovering. Those floor pans are pretty much toast as well. Can you say "Fred Flinstone"? Same with the rear quarters.
Yeah, this musclecar is slowly being eaten alive by rust from the ground up. Worth saving? Probably not. But fun to dream about.
[ad name="Adsense 468×60 above photos"]
[ad name="Adsense 468×60 below photos"]
More Impalas for sale now on eBay:
[phpbay]1961|1962|1963|1964, 10, "6169", ""[/phpbay]