Posted on Wednesday, January 1st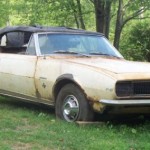 Field Find - '67 Camaro drop top
There aren't many cars better for cruising on a mild summer night then a 1967 Camaro convertible. This one looks like it's seen better days for sure, but maybe it could be brought back to its former glory with a lot of work.
It's in rough shape for sure, although most of the parts are intact. It still has the covertible top and hardware and the interior seems to be complete, although it looks like it was stored outside during a few dust storms. It's totally filthy!
This 350 cid small block is there as is the original Powerglide automatic. The body on the other hand needs a lot of work. Under what's left of it's original Capri Cream paint there's a lot of rust. Pretty much all the sheet metal below the belt line is in the process of being eaten away. And that's a nasty dent on the driver's door. Options include the Rally Sport Equipment package, Interior Group Decor, tinted windshield, center console and heater delete.
Maybe this Camaro will go to someone with enough patience and money to bring her back from the dead.
Camaros for sale now on eBay:
Incoming search terms for the article: