Posted on Saturday, March 7th
[ad name="Adsense 468×15 text below title"]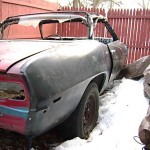 Brilliant. I mean, why wouldn't you leave your 1969 Camaro convertible out in the snow?…with no top…gathering leaves & crap to let the rust go nuts! Man! Buy a $30 car cover!!!
This was originally a Lemans Blue car with white convertible top. It was only a 6 cylinder, but that's still no way to treat a convertible Muscle Car!
The floor boards have more holes then metal. And check out that trunk. You're not hiding any bodies in there. Except maybe field mice.
What a sad way to treat such a potentially great looking car.
[ad name="Adsense 468×60 above photos"]

[ad name="Adsense 468×60 below photos"]
Camaros for sale now on eBay:
[phpbay]1967|1968|1969|1970, 10, "6161", ""[/phpbay]