Posted on Saturday, April 21st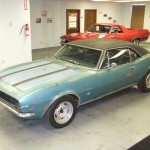 77,000 original mile Camaro stored for 30+ years
Someone got a deal on this true barn find 1967 Camaro RS. It sold on eBay recently for $9,472. Yes, I know the "barn find" term is used these days for just about any old car that has a layer of dust on it, but this one was honestly pulled out of an Ohio barn. It sat there for 30 plus years and only has 77,000 original miles on the odometer. Supposedly with a quick fluid flush, new starter and fresh battery she started up just fine.
The reason barn finds are so desirable is that they typically haven't been molested and modified. They're like time capsules just waiting for the right enthusiast to polish her up and turn back the hands of time. This one still has it's original (numbers matching) 327 cid small block and Powerglide automatic. The black vinyl top and Emerald Turquoise paint are faded for sure, but still original to the car. The only thing not original is the hood, for whatever reason.
A 1967 Camaro RS barn find. What more could a car guy ask for? Good luck to the new owner!
Camaros for sale now on eBay:
Incoming search terms for the article: