Posted on Sunday, March 15th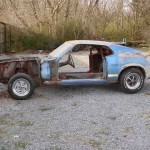 This 1970 Boss 302 Mustang has a serious case of body rot. Check out the Fred Flinstone floor pans. But it's a factory original Boss 302 so someone WILL restore it. The serial number ends in a G, verifying it's Boss status.
It rolled off the Dearborn assembly line in 1970 in Medium Blue Metallic paint with black interior. The Boss 302-4V was backed by a 4 speed close ratio manual and 3.50 gears. Other options included rear deck spoiler, sport slats, console, AM radio, deluxe seat belts and a tachometer.
1969 & 1970 Mustangs for sale now on eBay:
Incoming search terms for the article: