Posted on Sunday, April 1st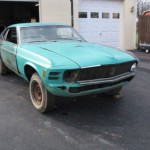 Rare Grabber Special Value Package
This 1970 Sportsroof is a Grabber Special Mustang for sale recently on eBay. Ford introduced this option in February of 1970 to help promote the new set of Grabber paint colors. This particular Mustang is one of only 740 Grabber Green cars made, with only 10 currently in the Grabber Registry. Other colors included Grabber Blue, Grabber Orange, Bright Yellow and Calypso Coral.
The Grabbers were all fastbacks (Sportsroofs) and most had either black or white interiors. They also featured black "C" body tape stripes (think Boss 302), color matched dual sport side mirrors, blackout rear tail light panel, 14" standard "dog dish" hub caps and a Windsor 302-2V engine.
The particular Mustang project car also came with C4 Cruise-O-Matic transmission, F70x14 Belted white sidewall tires, power steering and AM radio. The new owner will need to do quite a bit of work on this fastback to bring it back to life. Rust has completely taken out the floor pans, trunk floor, torque boxes and lower quarters. Paint is original, which is nice. Sure it will need to be repainted, but it's a plus that it doesn't have dozens of layers of paint slathered on it over the years.
1969 & 1970 Mustangs for sale now on eBay:
Incoming search terms for the article: