Posted on Saturday, February 7th
[ad name="Adsense 468×15 text below title"]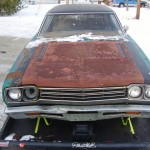 Here's a factory original 440 Road Runner; one of the true fire breathing, legendary Muscle cars from Plymouth. This one has been sitting in a field for 25+ years and certainly shows it.
Behind the 440 is a factory 4 speed and 3.55 gears. Body-wise this car needs some work, but not as bad as some.  Floor pans, trunk floor and trunk drops, rear quarter panels, wheel wells, etc. all need some seriour work.
The 440 engine was rated at 390 HP and 490 lb-ft of torque.
[ad name="Adsense 468×60 above photos"]

[ad name="Adsense 468×60 below photos"]
Plymouth Road Runner's for sale now on eBay:
[phpbay]roadrunner, 10, "43921", ""[/phpbay]